Moving since 1968
Professional, respectful staff
On-site quotes
Fully insured
Careful moving and packing
Call Now for a Stress-Free Move
Here at Southside Removals & Storage, we have been helping Engadine residents and businesses move for over 50 years. Our team has the experience necessary to get even the most complicated moves done safely and efficiently. Our staff members treat your belongings as if they were their own, taking great care to prevent any damage throughout the moving process. We'll provide a team of removalists to suit the size of the job, sending up to 10 workers for large moves. Here's a look at how we can make your next move your easiest one yet.

Southside Removals & Storage is a Proud member of AFRA the Australian Furniture Removers Association Inc.
Who is AFRA (Australian Furniture Removers Association)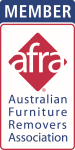 Australian Furniture Removers Association is an official body of removals experts that helps regulate the removals industry.
AFRA only accredits furniture removalists that are fully trained and qualified industry professionals that have the necessary equipment, vehicles, premises needed to complete a professional move.
All AFRA members carry Public Liability Insurance and are authorised to provide Transit Insurance for all goods and effects being moved.
Next steps:
1
Call Southside Removals and speak with our customer service manager
2
We will ask you some questions about your move including the date, size, destination, access issues or special requirements
3
We will advise whether an hourly rate or a fixed quotation is recommended
4
If an hourly rate is recommended we can book your move in on the spot, advise of number of men required and the approximate truck arrival time and forward you a booking confirmation via email
5
If a fixed quotation is recommended we will schedule a time for our operations manager to drop in for a site inspection
6
After the site inspection, we will forward you a fixed quotation via email for your move
7
Once you accept the quote we will book your move in, advise of the approximate truck arrival time and forward you a booking confirmation via email
8
We will forward you information regarding our packing materials and deliver these out to you at your request
9
On moving day our team will drive to your pickup location and carefully and professionally load and secure your belongings in the truck for transport
10
We will then drive your delivery location and carefully and professionally unload your belongings placing them exactly where you want them
11
We accept payment by way of cash, cheque, credit card bank transfer at completion of your move
12
After your move is complete we welcome any feedback
13
After you have finished unpacking we will happily come and collect your used packing materials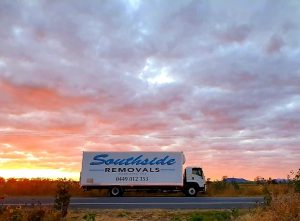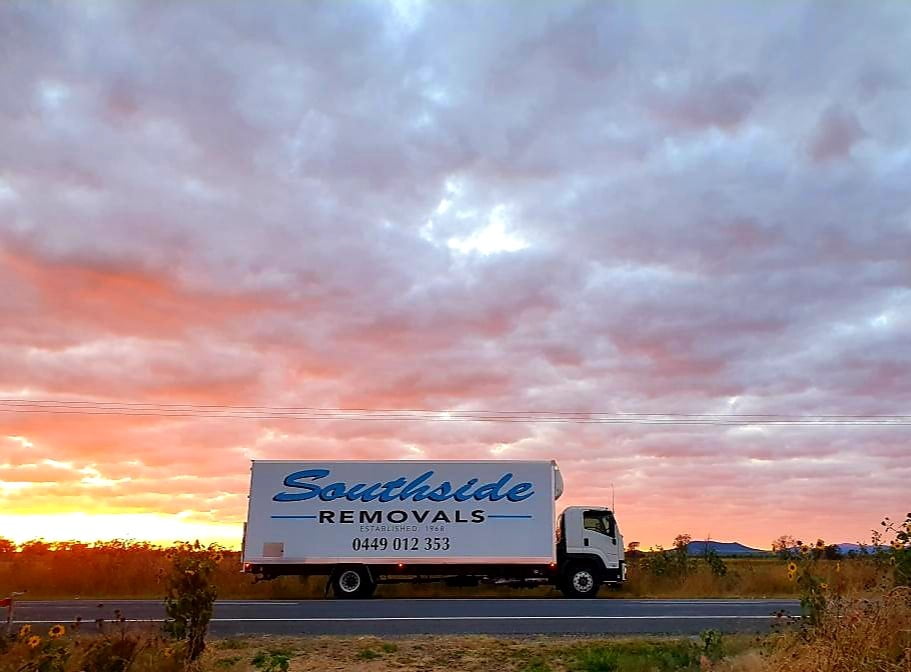 Testimonials
I just wanted to write to say how impressed we are with the amazing service and efficiency for our move to Brisbane. So grateful to Tyson and the team. Made a stressful situation much easier. Well done.
– Nicky and Peter, Loftus to Brisbane.
Thank you very much for the great job you did yesterday. From the time you arrived till will when you left, your team were helpful, careful, courteous and nothing was a problem. We would happily recommend you for any house move big or small.
– Mark & Louise, Engadine to Barden Ridge
On behalf and me and my family, I would like to thank you and your staff(Matt)for helping us move.
The advice you gave us packing made it much easier.
The boxes you dropped off to our house saved us time.
The punctual and accurately quoted job gave us peace of mind.
I would gladly recommend Southside removals. Cheers.
– Anthony, Engadine to Jannali
Karen and I would like to thank you for the seamless job you did in moving us from Engadine to Stanwell Park. Right from the quoting to delivery you made the whole job as stress-free as possible. You were able to adjust to cover the extras we hadn't thought of and I have to say that we found the friendliness of both Paul and yourself to be very reassuring.
We have no hesitation in recommending you to anyone considering a move as both your price and quality were faultless.
Thanks again for a job well done. We really appreciate your care and expertise.
– Karen and Tony M, Engadine to Stanwell Park
Rob did a fantastic job under really hot, difficult conditions.
Our settlement time was delayed, but the boys did not suit around waiting… and racking up dollars on overtime. They started unloading the truck and waited for the final go-ahead to move indoors and into the garage, avoiding excessive delays and extra costs to us. A really professional job and nothing was too much trouble.
We would strongly recommend Southside Removals to anyone wanting to reduce the stress of moving house! Thank you Tyson and your team.
– Ross and Angie, Woronora Heights to Engadine
Request a Quote
Services
Furniture Removals
Moving heavy furniture requires a lot of effort, so let us take care of all that hard work for you. We'll always protect your furniture and other items with packing pads, plastic wrap and other precautions to minimise the risk of damage throughout the journey. When we get to your new home or business facility, we'll unload everything and arrange it just the way you like it.
Pre-Packing and Unpacking
Packing all of the items in your Engadine home or business into boxes can be incredibly time-consuming, and you've already got enough on your plate with moving to a new location. Our team can pack everything securely for you, and we'll unpack everything according to your direction when we get to your destination as well.
Local Removals
We recognise that not all Engadine homeowners and businesses plan to stay in the local area. We are proud to provide interstate removalist services, as well as local services. We'll get your things to wherever they need to go, no matter how near or far that is.
Interstate Removals
Moving to another state adds an extra layer of complexity to your move, but you can rest assured that our team can handle it. Our team will securely wrap and secure your furniture to move your items safely.
storage
Southside Removals & Storage offer affordable storage solutions. Whether you need a short term solution to store your furniture and household items between house moves, or you need longer-term storage, we have you covered.